| | |
| --- | --- |
| Today is | |
| | |
| | |
| | |
| --- | --- |
| Weather forecast | |
| | |
| | |
| | |
| --- | --- |
| Exchange | |
| | |
| | |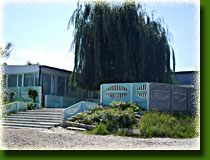 The hotel restaurant "Priboy", offers a wide selection of dishes of Russian and European cuisine. At our guests have the opportunity to keep abreast of recent developments, as well as during the breakfast broadcast news programs on international channels. Light soft interior of the restaurant and comfortable music to have a nice friendly chat in the evenings. In summer you can sit outdoors in the summer cafe under a spreading willow century.

The reason to go to a restaurant can be many: birthday, family celebration, corporate or simply a desire to have a good time. Choosing a place can be considered known Azov expensive restaurants - and you can select the restaurant "Priboy".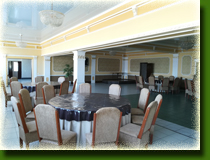 We invite residents and visitors to the Azov delicious lunch and dinner! With us you can taste delicious dishes of Russian and European cuisine. When choosing a restaurant "Priboy", you save time, get a guaranteed pleasure. Our staff will try to make your holiday unforgettable.
The restaurant of our hotel - a great place for any part of the wedding banquet, a children's holiday and corporate parties. We undertake comprehensive service banquet in full.
As part of the banquet hall "Priboy" you can order the holding of corporate parties and banquets of various sizes, scope and status levels.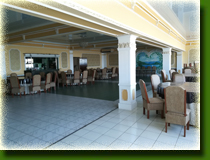 Integrated care and a banquet - it laborious. We always focus on the individual customer's wishes banquet. Are available in various forms of service and serving of banquets, but in any case, the principal will be the quality of the prepared dishes, correctly mapping drinks, the level of service and design style banquet hall.
If desired, the client we can provide a banquet for the lighting and sound equipment, artists and clowns - if children's holidays. Holding a banquet in the restaurant "Priboy" - the success of your event.
The restaurant's interior creates an atmosphere of solemnity, mystery, and at the same home warmth and comfort. The restaurant is ready to meet and serve at the highest level of any guests, to offer you a delicious dinner, a romantic dinner.