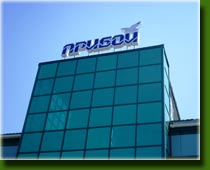 Welcome to a site of the Restorant and Hotel Complex "Priboy".

Creating our hotel in Azov, we thought, first of all, about convenience of our visitors, therefore tried to think over with the big attention each detail. Despite that fact, that our hotel still young, she already has had time to recommend herself from the best parties. To this success has served quality of service, good-natured employees, and, certainly, a site of our hotel. Hotel "Priboy" is in the most silent area of the city of Azov,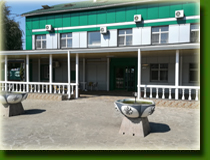 near to a city beach, historical monuments and museums. Hotel "Priboy" is glad to offer each visitor of the city of Azov number according to incomes and for all tastes.
The hotel of Azov "Priboy" has three types of cosy rooms: the Standard, the Suite and "President". In all rooms there are TVs. Shower booths and a toilet are available in each room.
The hotel offers the visitors comfortable residing at rooms and a wide spectrum of hotel services.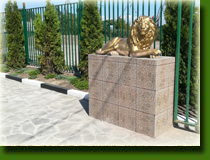 "Priboy" is popular among organizers of conferences. Here you can meet the well-known sportsmen, actors, politicians and also the experts who have arrived to business trip. In hotel place a newly-married couple, businessmen and, of course, a considerable quantity of tourists.
The hotel is had in 10 minutes of walking from downtown, and also such places of interest, as the Rampart, "Powder cellar", Azov museum with unique archeological finds, etc.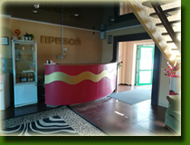 Stopping in hotel "Priboy" in Azov, you can count on individual service - managers will be glad to help you during yours stay in our city. They will always prompt to you as it is better to reach in various places of Azov, in case of need will call a taxi and will reserve a little table at restaurant, will help with the organisation of excursions on a city.
You will find the information on an arrangement of hotel and the contact information in section "Location".
Come to Azov and be convinced!
Welcome in the Restorant and Hotel Complex "Priboy"!